Temi e programma del SID
Nel mese di maggio 2022, la Commissione europea ha approvato e adottato una nuova e aggiornata strategia per la protezione dei minori online: Better internet for kids (BIK+). Prendendo spunto da questa strategia, SID in Italia ha scelto 5 temi discussi nella mattinata del 7 febbraio 2023 presso Officine Farneto a Roma, da Youth Panel ( Save The Children, Telefono Azzurro, Giffoni Festival), Teacher Panel, esperti CREMIT:
1. Rischi e sicurezza online
2. Economia della rete
3. Violenza online
4. Benessere online
5. Algoritmi, Intelligenza Artificiale e Democrazia
Videomessaggio del Ministro dell'Istruzione e del Merito Giuseppe Valditara:
This year is particularly special as it marks the 20th edition of this milestone campaign, and celebrations are taking place all over the world. Over the last twenty years, Safer Internet Day has grown from an EU initiative to a truly global celebration, presently involving millions of people in over 180 countries and territories worldwide.
Check out the new SID video spot here…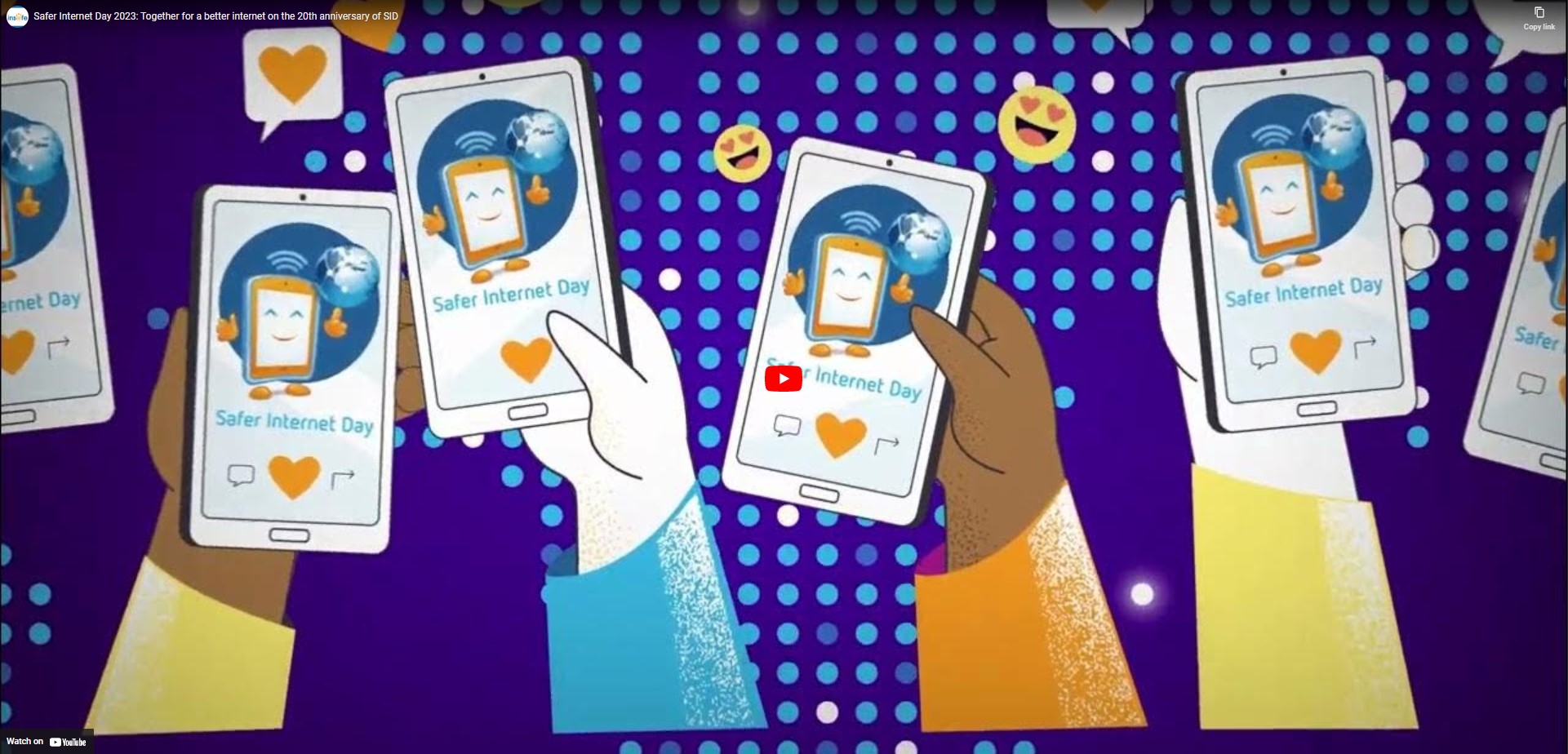 Vice-President for Democracy and Demography, Dubravka Šuica, and Commissioner for Internal Market, Thierry Breton have both issued video messages to mark the day, highlighting the ongoing work and commitment of the European Union to take measures to protect and empower young people online. Also on the occasion of SID, the EC has launched a new child-friendly version of the Digital Principles Declaration (complementing the child-friendly version of the new European strategy for a better internet for kids (BIK+)), alongside an online game on Digital Principles, so children and adolescents can learn about their rights in the digital world.
Discover more by visiting the Safer Internet Day website, where you can find updates on what is happening in your country to mark the day, as well as news on the actions of a range of international organisational and industry SID supporters to help create a safer and better internet. You'll also find a gallery of resources – from across the Insafe network of Safer Internet Centres and beyond, in a range of languages – to help you celebrate Safer Internet Day in your school or home… and indeed promote a safer and better internet all year through!
Additionally, follow the events of the day across the globe – and contribute to the discussions directly – on Twitter (@safeinternetday) and Facebook (@SaferInternetDay), with the hashtags #SID2023 and #SaferInternetDay.
And don't forget to visit the Better Internet for Kids (BIK) website for a whole host of additional content and resources to help keep children and young people safe online, including the BIK guide to apps, or contact details for your national Safer Internet Centre (in Europe). On the occasion of SID 2023, we've also been busy with our own BIK content launches…
The Better Internet for Kids review of the year 2022has been published today. During 2022, the European Year of Youth, young people showed their commitment to building an environmentally friendly, safe, and inclusive future. Their optimism was in stark contrast to the war on Europe's borders and the upheaval for the world caused by Russia's invasion of Ukraine. This annual report provides an overview of a multitude of stakeholder efforts to both protect and empower children and young people in their digital lives. Read the correspondingchild-friendly infographic to learn more about youth involvement in 2022.
In the framework of the new BIK+ strategy, a new BIK Teacher corner has launched today. The Teacher corner is a special section of the Better Internet for Kids website aimed at teachers, educators and other adults who work with children and young people. There they can find everything needed to better understand the digital worlds and experiences of young people. A range of learning modules and deep dive articles are provided to ensure they have the knowledge required to understand the risks and opportunities that accompany the digital experiences of youth, and to help them develop the skills to support children to manage and benefit from these experiences.
Also to mark Safer Internet Day, we've launched a good practice guide, developed as a collaboration between Insafe and Media@LSE. Classifying and responding to online risk to children is a good practice guide that focuses on the nature and prevalence of select online risks encountered by children across European countries, based on the 4Cs model of content, contact, conduct and contract risks. Through illustrative case studies, the guide offers practical tips for anyone seeking to help children who encounter online risks. A unique feature of the guide is the showcasing of hands-on expertise of practitioners who respond to child online risk and safety problems through the Insafe Safer Internet Centre helpline network.
On that note, we wish you a great Safer Internet Day and hope you will join in the celebrations in some way. We'll be back in touch at the end of March 2023 with the next regular quarterly edition of the BIK bulletin where we'll bring you an update from the day, along with our normal mix of news and resources.
Safer Internet Day is organised on behalf of the European Commission by the Insafe network (coordinated by European Schoolnet, a network of 34 European Ministries of Education) and INHOPE (the International Association of Internet Hotlines).