Seminario proposto nell'ambito del progetto "Mediazione per l'accoglienza" Consorzio Erasmus Plus 2021-1-IT02-KA121-SCH-000012059: Obiettivo 8
Join this information session on 20 May from 14:00 to 17:00 to know more about Erasmus+ Teacher Academies.
Online Information Session on 20 May 2022, from 14:00 – 17:00, Brussels-Time
The aim of this session is to provide participants with information about the Call for Proposals and give the opportunity to ask questions:
What are Erasmus+ Teacher Academies?
Erasmus+ Teacher Academies promote cooperation between teacher training institutions to improve the quality of initial teacher education. They support teachers in the early years of the profession and through continuous professional development throughout their careers. You can find a list of organisations that can participate and more information on the Teacher Academies Action here.

Call for Proposal for Funding Published
A Call for Proposals for Funding was published on 15 March 2022, with a deadline of 7 September 2022. It can be found on the Funding & Tender Opportunities Portal (F&TP).

Further Information
education grant
20 May 2022, 14:00 CEST – 20 May 2022, 17:00 CEST
Practical information
Friday 20 May 2022, 14:00 CEST – Friday 20 May 2022, 17:00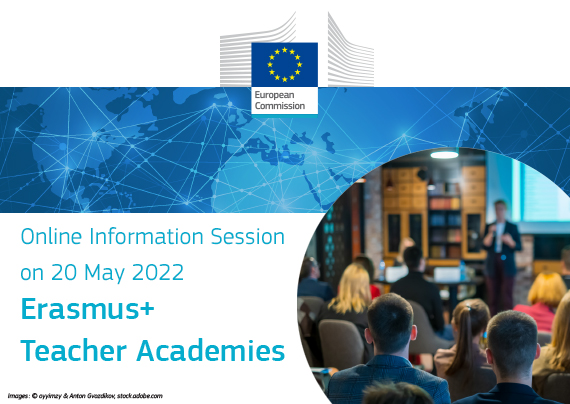 Welcome
Michèle Grombeer, European Education and Culture Executive Agency (EACEA)14:20 – 14:30
Opening
Mariya Gabriel, European Commission, Commissioner for Innovation, Research, Culture, Education and Youth14:30 – 15:00
Policy context, objectives of the call and expected result
Michael Teutsch, European Commission, Directorate-General for Education and Culture (DG EAC)15:10 – 15:50
How to prepare a good application & Stats of the 2021 Call Selection
Anders Stjernberg,European Education and Culture Executive Agency (EACEA)15:50 – 16:05
How to find and apply for funding
Róisín Mc Cabe, European Education and Culture Executive Agency (EACEA)16:05 – 16:20
Budget-based grant agreements
Jehan Laroche, European Education and Culture Executive Agency (EACEA) 16:25 – 16:55Questions & Answers16:55 – 17:00
Closing Remarks
Michèle Grombeer, European Education and Culture Executive Agency (EACEA)